Nissan Certified Pre-Owned
Benefits Include:
7-Year/100,000-Mile

Limited Powertrain Warranty

7-Year/100,000-Mile

Roadside Assistance Coverage

167-Point Inspection

Genuine Nissan Service & Parts
Plus More...
View Certified Vehicles
Get Approved
Need help financing the car you've always wanted? We can help! We work with multiple lenders and will help get you the best loan possible.
Apply Now
Our Reviews
Service was fast, up to the minute updates and Fabian answered my questions reference diagnostics
I really liked how they treated me. Great customer service. They did a good job on my truck
Thank you so much to edwin mayapis for taking care of my nissan armada.. helpful and very professional!!!
I want thanks you for each and everything that let me know that my car needs
Fabián is the best associate.. he's really nice and competitive worker.
This dealership has always provided quality customer service to me. I assume it treat most of the customers the same. Keep up the excellent work. Thank you.
Oscar had outstanding customer service. Felt like I was a member of the team not just a number.
Well, I just went for an oil change and they did a very complete inspection of my car at no cost, after this they didn't pressure me at all, Fabian is the best of associates, very happy with his attention and everyone's attention, thanks!!! Bueno, sólo fui por un cambio de aceite y me hicieron una inspección muy completa de mi carro, después de eso no hubo ningún tipo de presión, agradezco a Fabián por ser un excelente asociado, y una amable persona, en realidad, todos son muy amables, gracias!!!
Ed and team were great. They explained the diagnostic process and the efforts to find the stated issues. I will be back should I need services in the future.
Debbie was a very friendly and helpful service advisor, she really cared about my needs.
Thankful for Ed's assistance with my oil change and his willingness to be helpful!
Very good. Personnel who takes care of you. Car well taken care of. Pleasant atmosphere. Will go back to dealership.
It was just a recall for my car but Edward helped me to find a solution on my needed on that day. Very knowledgeable and very polite guy. Also the receptionist was very polite and helpful to fill all documents. Thanks
Came in for two recalls. Chris came straight out and warmly greeted me before I got out of the truck. Back inside, he laid out what was going to happen and arranged a ride to take me home. Picking up our truck was just as easy.
Ed was amazing and very helpful
Had good experience at Henderson Nissan, Fabian took care of service for my car.I usually go to Centennial Planet Nissan bought car there, but work in Henderson so will have all future work done here
Henderson nissan did amazing job. Take care me very well. Did a car wash and they did on time
The service was great very timely didn't have to wait long the only thing they didn't do was run my truck through the car wash not sure why other than that everything was perfect
Everything worked out great on this visit to your service department. It took two days to complete the service work but there were several items on the list of things to do. No problem with that. I would like to give a special thanks to Debbie Villan in the service department. She did an outstanding job in getting everything done. Also, when it came time to pick up the car, she made an extra effort to get the paperwork completed and the car out to me. I really appreciated that, and it certainly was beyond what she is expected to do. So, I would request these comments be routed to the upper management at Henderson Nissan so that she can receive the proper recognition for her outstanding customer service. Her friendly attitude and willingness to go the extra effort is a definitely asset for Henderson Nissan. As a side note, in the ratings above I indicated I would not purchase a new car at Henderson Nissan, but I may at some time at least look for a used car there.
It was Fantastic. Such a pleasure working with you and thank you so much for taking care of us..
I was really so happy. I told my whole family about the nice experience I had in fact when I was there, I was telling my daughter about the beautiful coupons I had and everything was done so nicely and kindly and fast, so thank you. Debbie and God bless.
Welcome to


Henderson Nissan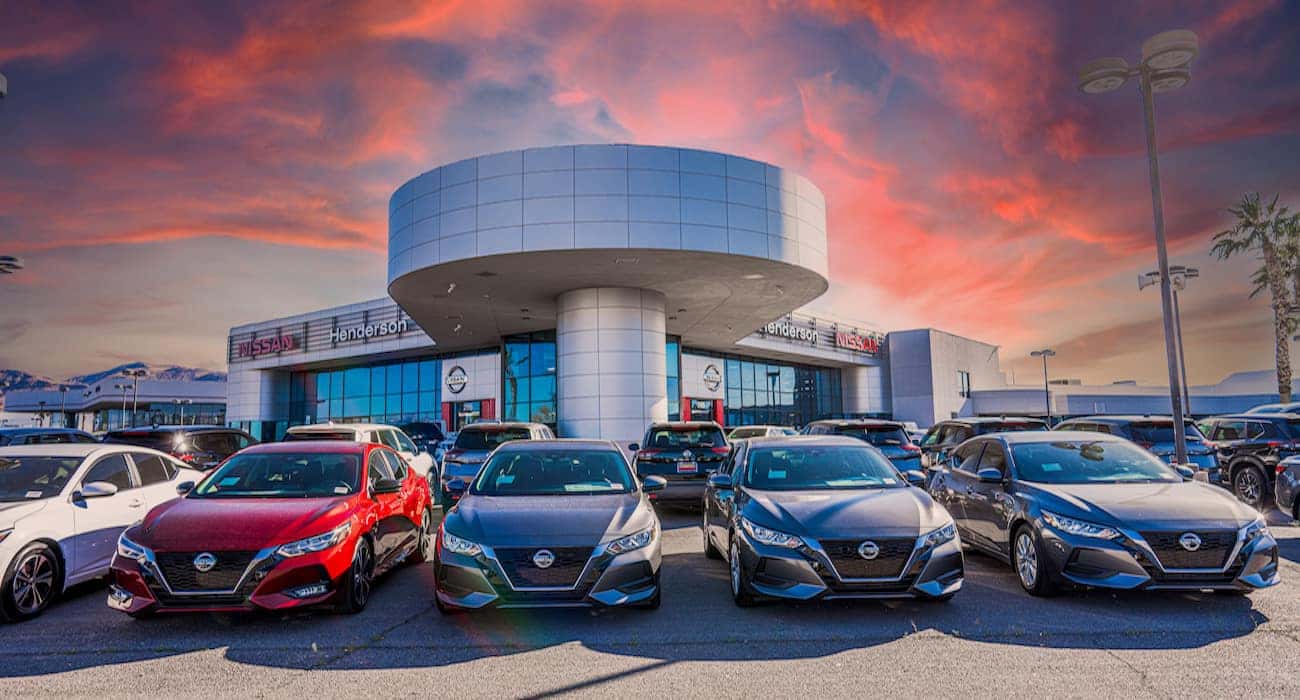 A Trusted Nissan Dealer in Henderson, NV
Henderson Nissan has been a trusted car dealership in the Las Vegas, NV area for years. Our car dealership is committed to providing quality sales, service, and parts for drivers of all makes and models, not just Nissans!
People love shopping with us and that's why we make repeat customers out of so many people we work with each year. If you're looking for a car-buying experience that's unlike any other, then we're the place for you.
New Nissans and Used Cars for Sale
One of the things people love most about our car dealership is the wide selection of new Nissans and used cars for sale. We specialize as a new Nissan dealer, but we're always taking in vehicles on trade or purchase, so we also carry a wide selection of used cars, trucks, and SUVS.
We understand that finding the perfect vehicle to match your driving style and taste can be difficult, so spend some time browsing around our new and used car inventory to see if you find a car you want to drive. If you see something you like, let us know! We serve customers from all around the Las Vegas, NV area.
Nissan Service and Auto Repairs
Our car dealership is a trusted and reliable Nissan service and auto repair center in Henderson, NV. We don't just work on Nissan cars, trucks, and SUVs - we work on all makes and models. If you're looking to service your vehicle in comfort, then schedule an auto repair appointment at Henderson Nissan today. We look forward to working with you!